Born in Painesville, Ohio July 24, 1843, Sarah Jane Pike was brought up in Galesburg, Illinois, the daughter of New England-born Edward Pike, a fruit tree dealer, and wife Laura Burridge. She attended Lombard College, graduating in 1863, and Bryant and Stratton Business College in 1864. She fell in love with Edwin Hurd Conger, a fellow student at Lombard (to which his parents were founding donors), waited for him to return from the Civil War, and married him in Galesburg on June 21, 1866. The Congers moved to Dexter, Iowa, where Edwin practiced law and engaged in banking and farming interests. His rise in state and then national politics brought the couple and their daughter, Laura, to Washington, DC. Sarah followed him to Brazil when he was named U.S. foreign minister to that country, and later to China, where Edwin served as minister in Beijing from 1898 to 1905. Along with her husband, Sarah was awarded by the Empress Dowager Cixi, who had become a friend, a special Order of the Double Dragon.

Sarah and Edwin built a house in Pasadena, California, where they intended to settle down and enjoy their many Chinese treasures. Edwin had been named Ambassador to Mexico by President Theodore Roosevelt, but was too ill on his return from China to take up his duties.Due partly to an illness he had developed during the Boxer Uprising, and to overwork dealing with its aftermath, Edwin died on May 18, 1907.
In an act that drew upon her much of the same controversy raised by her friendship with the Empress Dowager, Sarah sold many of her Chinese treasures - some of which she later admitted she knew were looted during the Boxer Uprising - at auction in New York City following Edwin's death.

In 1909, Sarah published "Letters From China," a collection of her letters and diary entries during her seven years in the Middle Kingdom. In 1913, Sarah published "Old China and Young America," a smaller book of stories geared toward younger readers, in the same effort that motivated "Letters From China": to help westerners understand and appreciate China and the Chinese people.

Sarah died in February 1932, and was buried, with husband Edwin, next to their son, Lorentus (who died in childhood) in Mountain View Cemetery in Altadena, California.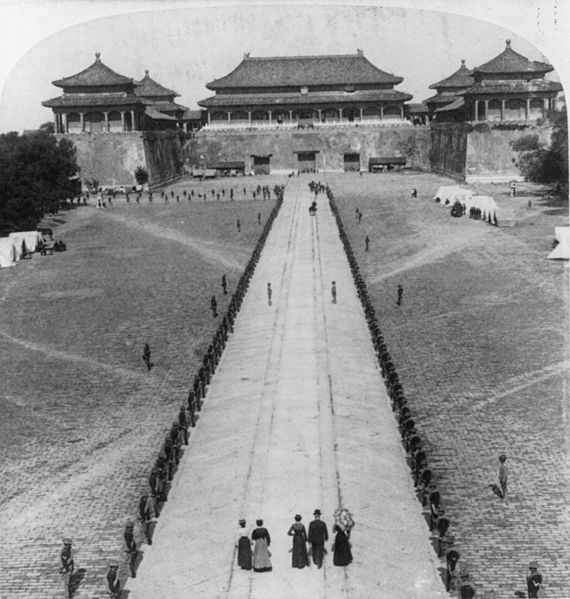 Sarah and Edwin Conger entering the Forbidden City after the Boxer Uprising, late summer 1900
"Letters From China" (1909)