New from McFarland & Company (publication date 28 May 2007) - click below for details:
Charlotte Greenwood: The Life and Career of the Comic Star of Vaudeville, Radio and Film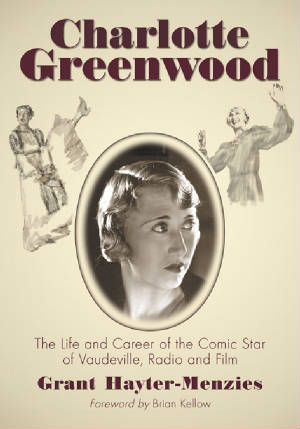 "A unique talent and an overlooked chapter in show business history, diligently researched and informatively written. Beloved Charlotte Greenwood has been brought back to life with candor and charm. A movie lover's must-read!"
- Rex Reed
"Charlotte Greenwood was a tough and bright show-biz cookie who broke the rules and wrote her own. Grant Hayter-Menzies chronicles her zig-zags, public and private, with remarkable passion and compassion, precision and perception. Those who only know Greenwood at twilight, essentially as sweet old Aunt Eller, are in for some happy jolts"
- Martin Bernheimer
... a first-rate biography, concentrating largely on Greenwood's incredible career (as the subtitle makes clear in all media)... Grant Hayter-Menzies does his subject proud.

- Anthony Slide, author and resident film historian of the Academy of Motion Picture Arts and Sciences
Many stars believe that they could have transcended the limits the Industry put on them, if only ... but this sympathetic biographer makes a very convincing case that Greenwood was more than just a comedy spinster type.


- Richard von Busack, Metro
...Hayter-Menzies can congratulate himself on adding considerably to the historical and anecdotal record of a heretofore underappreciated talent. Would that the effect on popular culture be an enlightening one, and that future generations of fans and students of the arts may in turn become familiar with Greenwood's many contributions to the annals of stage and screen.


- Jack Booch, Vancouver Voice
Recent press on Charlotte Greenwood:
"I'm So Hot My Husband Can't Get Fire Insurance!" - interview of Grant Hayter-Menzies by MIT professor and author Henry Jenkins, 18 September 2007
... and here is Part II of the Jenkins interview.
"Little-known U.S. actress casts spell" - Adrian Chamberlain, Victoria Times Colonist, 26 May 2007
"Another Old Movie Blog: New Charlotte Greenwood Biography," Jacqueline T. Lynch, 11 June 2007
"Coming out of the woodwork" Singer-actress Charlotte Greenwood's South Philly home has had its history remain a mystery - until research for a book clued in its current owners. - David Goncalves, South Philadelphia Review, 7 June 2007