Charlotte Greenwood's Philadelphia birthplace
Born in a narrow Philadelphia row-house in late June 1890, Charlotte was a sickly child whose barber father abandoned her and her mother before the baby had entered her second year. From her earliest childhood, tall, lanky Charlotte saw first-hand how her mother, a strong woman who refused to give up no matter her hopeless circumstances, could take the lemons with which life had loaded her and make not just lemonade but lemon meringue pie. This was a method of survival that was to stand Charlotte in good stead in the various traumas of her own life, on and off stage, as well as inspire her to create a striking persona that audiences came to adore, whether in her stage successes as "Letty" in the late 1900's and 1920's, early screen comedies of the 1930's with such luminaries as Buster Keaton, Eddie Cantor or Bert Lahr, or her WWII-era man-chasing spinster and straight dramatic roles in splashy Twentieth Century-Fox Technicolor films.
Charlotte's was a method, too, which would help her bring richness and weight to the role that best summed up all that was best about Charlotte Greenwood the comic, the actress and the woman, and the one role for which she is recognized around the world¾that of the upright, benevolent, vigorous and wise Aunt Eller in Rodgers and Hammerstein's groundbreaking musical, Oklahoma!
By her own account and the assessments of those critics who enjoyed her performances, Charlotte's career was a veritable cornucopia of "firsts." Many memoirs of stage performers before and after her time are filled with back-patting along these lines, but Charlotte's memoirs state the case with a refreshing straightforwardness and candor—we are invited to be as amazed by her accomplishments as she was. As with the comedic persona that came to her literally by accident, Charlotte was rare in being able to stand outside herself as stage personality and take a seat in the audience, from which she was able to see just what she had to offer, for better or ill. Charlotte Greenwood was definitely proof that even a comedian¾or, in her own words, a clown¾can make history, every bit as much as the tragedians and the romantic leads. Having been "discovered" by the dance director Ned Wayburn when she was only 15, Charlotte went on to star in the first of the Shubert Brothers' Passing Shows (1912), which also launched the famous Winter Garden in New York City. She was the first to appear in a series of musical comedies dealing with the same character, starting with a supporting character named Letitia Proudfoot from the musical comedy Pretty Mrs. Smith—a role which must rank among the first spin-offs in theatrical history.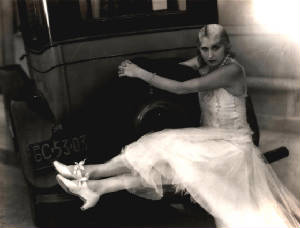 Charlotte Greenwood as Letty, 1929
"I was among the first to dip into the motion picture field when it began to take on not only dignity but importance," Charlotte writes in her memoirs, her first film being the domestic farce Jane (1918), with the to-be-famous Lloyd Bacon as director. "In 1922 I was in New York ready for another 'first,' this time in a new type of revue which eventually became enormously popular—the Music Box Revue," she recalled; this revue was devised by Irving Berlin. "In 1926 I returned to vaudeville to achieve a new first… two acts on one bill—Gentlemen Prefer Blondes and my cycle of songs…."
In 1933 and 1934, Charlotte was the first comedienne and first American ever to star twice in succession at the Royal Theatre, Drury Lane. On her return to the States in the mid-1930's, she revived Chicago's flagging theatre culture with a twenty-one week run of Leaning on Letty, a show the world tour of which was cut short in Australia by the outbreak of World War II.
In 1942, Charlotte took part in the famed Hollywood Victory Caravan, in which over fifty film stars traveled by train across the country to Washington D.C. to raise funds for the war effort. The trip culminated with a visit to Eleanor Roosevelt at the White House, where Charlotte made one of her signature high kicks over the First Lady's head, prompting Groucho Marx to comment to Mrs. Roosevelt, "You could do that, too, if you put your mind to it."
At age 60, she played Juno, a role written for her, in Cole Porter's Broadway musical Out of This World, to acclaim. Her last great performance is one that everyone remembers her for: in the film version of Oklahoma!, in the quintessential interpretation of Lynn Riggs' elderly aunt from Green Grow the Lilacs.
Charlotte Greenwood as Aunt Eller in "Oklahoma!" [Private collection]