by Grant Hayter-Menzies
"In almost 80 movies," wrote Hollywood biographer Donald Spoto, "she was a pixie with a canny charm. Her bubbly, breathless tremolo and her fluttery delicacy were endearing rather than exasperating. There was really no one like her."

Spoto was describing the one of a kind Billie Burke, who from her first professional appearance on the London stage in 1903 to her final film, a Western, in 1960, lived a life with more acts than a Shakespeare play, and recast herself from stage beauty to screen character actor, while battling her way out of the debt and despair of the 1929 stock market crash and the death of her beloved rogue of a husband, producer Flo Ziegfeld.

The only child of a famous circus clown and a widow with ambitions for the stage, Billie Burke was forced into the theatre by her mother, where despite her fears and her lifelong sense of inadequacy she became an overnight sensation - taken first under the wing of Sir Charles Hawtrey in London and later by Broadway producer Charles Frohman, starmaker of Maude Adams and Ethel Barrymore. A Broadway success, Burke set fashions with each of her appearances in plays by Sir Arthur Wing Pinero, W. Somerset Maugham, Booth Tarkington and Noel Coward. She was proposed to by Enrico Caruso and adored by the elderly Mark Twain.

Then she met producer Florenz Ziegfeld on the eve of World War I, and in that clash of old world and new, that end of the last glamour of the nineteenth century, Billie Burke's life took a very different course.

As her career began to wander under Ziegfeld's management (among critics the mistaken belief was rampant that marriage to Ziegfeld gave her roles that she did not have to work for), and she poured her own cash into Ziegfeld's magnificent, money-burning productions, Billie Burke also discovered that she had married a man who could not leave chorus girls behind.

Violent scenes that few would believe her capable of followed, with threats to walk out on the marriage - but Burke was unable to leave Flo. It was more than needing to stay together for their daughter, Patricia. Flo and Billie were a team, the true king and queen of the Jazz Age. And Billie came to the conclusion, when it all broke up and disappeared in 1929, that the great tragic role she had yearned to play on stage was one she had already taken on in 1914, when she married her brilliant, flawed Flo.

This is the story of the many acts of Billie Burke's life off the stage, where there was as much drama, passion and heartache as she ever brought to the theatre.
**NEW** Globe & Mail review by Jack Kirchhoff, 9 April 2009
**NEW** Author interview - Peninsula News Review (March 20, 2009)
**NEW** Author interview with Blair Frodelius of The Daily Ozmapolitan
Billie Burke as Jacqueline in "Love Watches" (1907)
Billie Burke at left, as Mamie Reckfeller in her 1903 London hit, "The School Girl"
U.S. publisher McFarland & Company will bring out this first biography of Billie Burke in 2009-2010, a century after Miss Burke became the toast of Broadway, and seventy years after her most famous role in "The Wizard of Oz".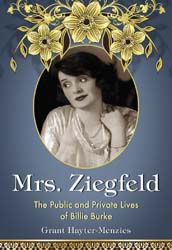 For information on "Mrs. Ziegfeld: The Public and Private Lives of Billie Burke", click here
Billie Burke as Glinda the Good